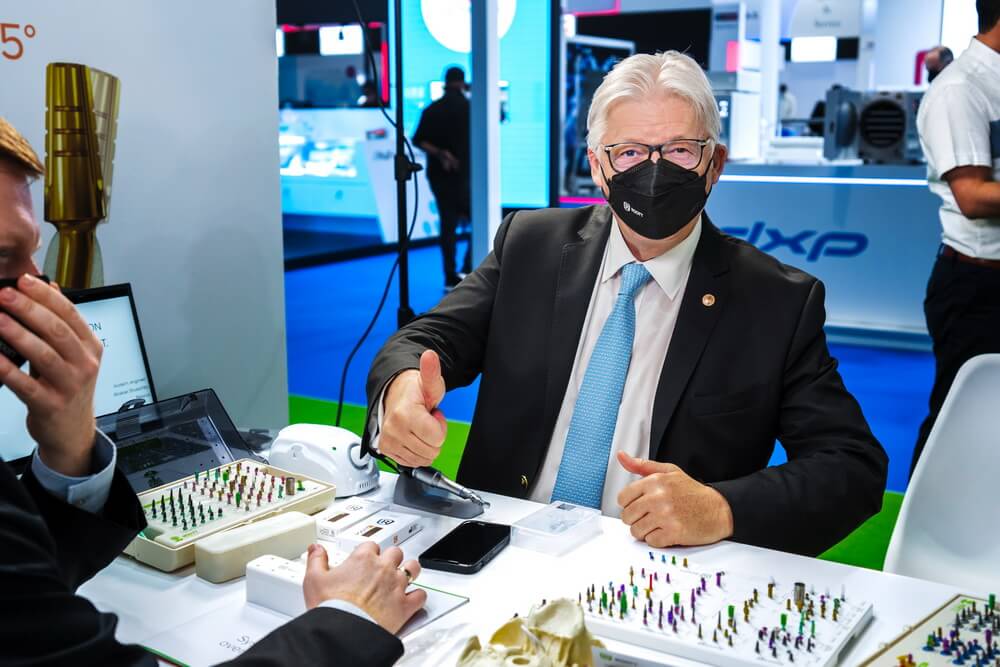 ROOTT and the team of specialists started February by meeting the clients, partners and audiences participating in AEEDC 2022 (UAE International Dental Conference) – the greatest dental expo in Dubai. One of the most critical events in the dental industry has brought together professionals and brands, such as ROOTT, together and gave an opportunity to present, offer and discuss the trends, innovations, and the future of the industry.
From February 1st to 3rd, AEEDC gathered for yearly check-in with the latest trends, opportunities, and dental solutions in Dubai. Drawing more than 66 000 participants from more than 150 countries, the exhibition continues to grow, presenting 22 International pavilions, covering topics from basics to modern dentistry and becoming the greatest platform for networking, partnerships and business deals.
This year, in ROOTT stand, we had the opportunity to present our new surgical guide demo kit – the next step in the digitalization of ROOTT. With pure excitement and joy, we were excited to show our first and only surgical guide kit, which will ease work for our current and new clients who are working with guided surgery. During the expo Key Opinion Leaders of ROOTT were ready to explain the techniques and workflows of the kit and even show the physical version of our new stoppers and sleeves. We have gathered a lot of valuable feedback and we're going to continue improving it, based on the remarks and suggestions received from clinical experts of ROOTT.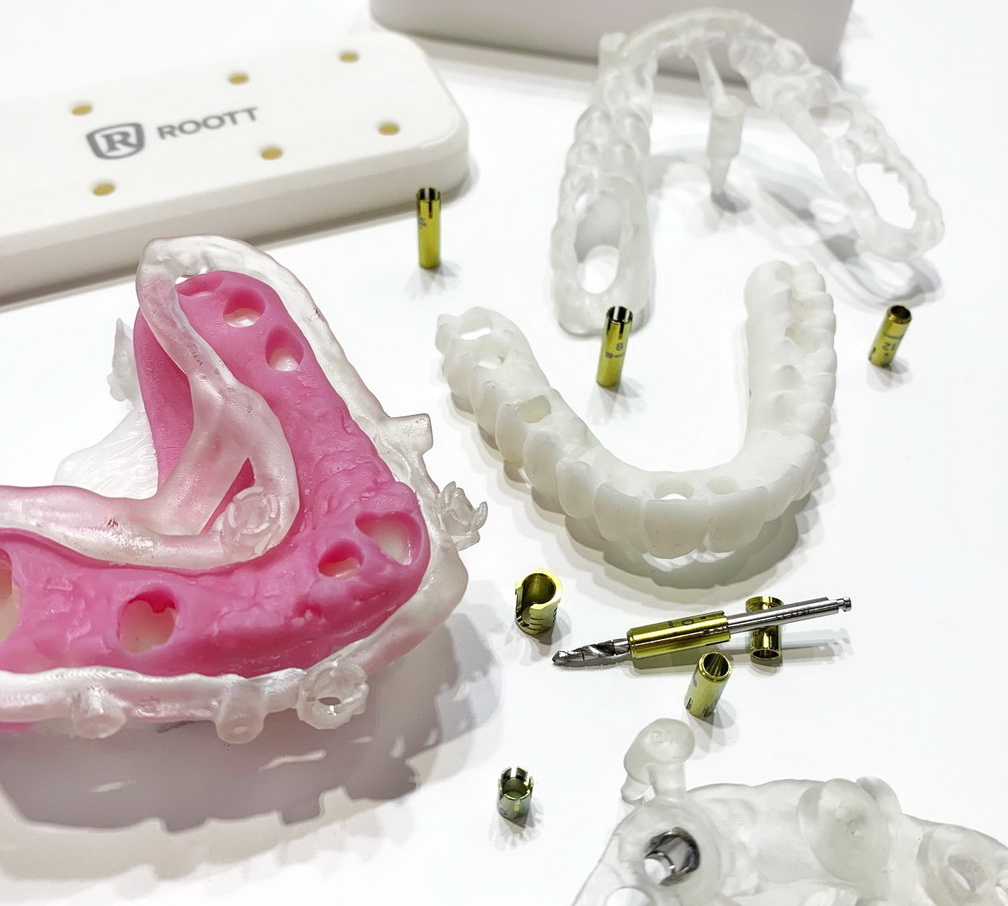 Scan, create and finalize with CRE
Noticing how implantology progresses quickly, this year we wanted to draw the attention of our clients to digital solutions in dental implantology. We are very glad to be able to give our customers added value by providing them with a free multifunctional CRE part with every ROOTT R dental implant. The multifunctional part can help with intraoral scanning and be used as a temporary, permanent or healing abutment. This year we wanted to address the intraoral scanning option for CRE and emphasize the burden-free possibility of the start in prosthesis making. Reaching for better results and moving forward by giving clear and easy approaches to our clients every year.
Scan directly with external platforms
Intraoral scanning can be also done with external platforms of ROOTT C, ROOTT CS, ROOTT B and ROOTT BS. Due to the progression of intraoral scanners, implant abutments can be directly scanned with an intraoral scan even easier. With this feature, there are no additional parts to handle and no scan posts, which helps to save time and costs for the doctors and patients. Direct implantation and direct approach of scanning, efficiency at its finest.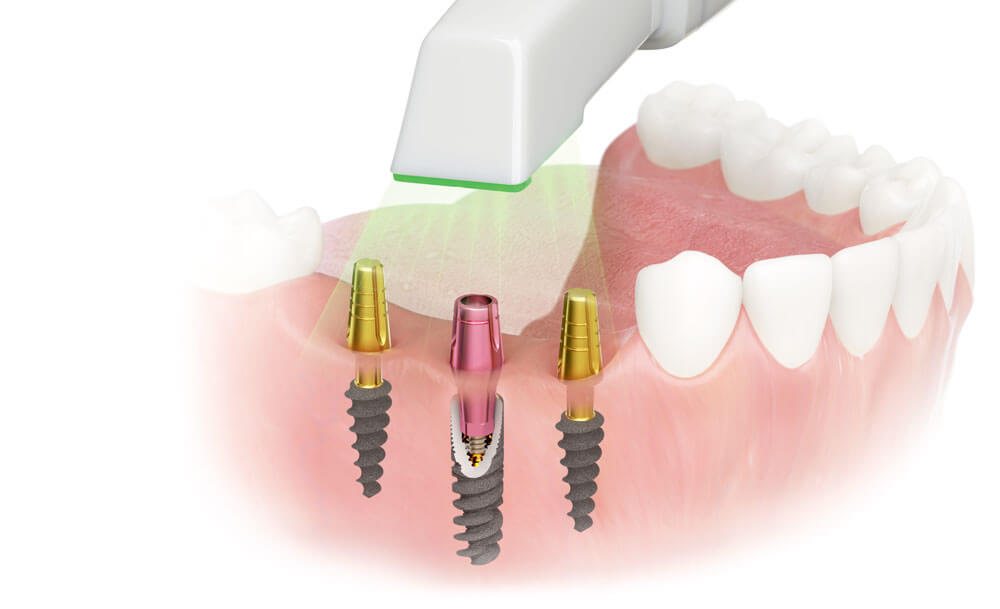 TRR cassette designed for ROOTT R
Not only surgical guide kit was presented during the AEEDC, but we also prepared separate, perfectly suited for ROOTT R cassette TRR. A smart and convenient instrument kit for those who are using two-piece implants and value practical solutions. In the new TRR cassette, our clients can find drills and instruments which are specifically made for two-piece ROOTT R implants. They will ideally match the form of ROOTT R with wider spiral thread which will perfectly suit hard bones such as D1 and D2. No universal instruments, everything built and assembled to fit and match ROOTT R for our loyal customers.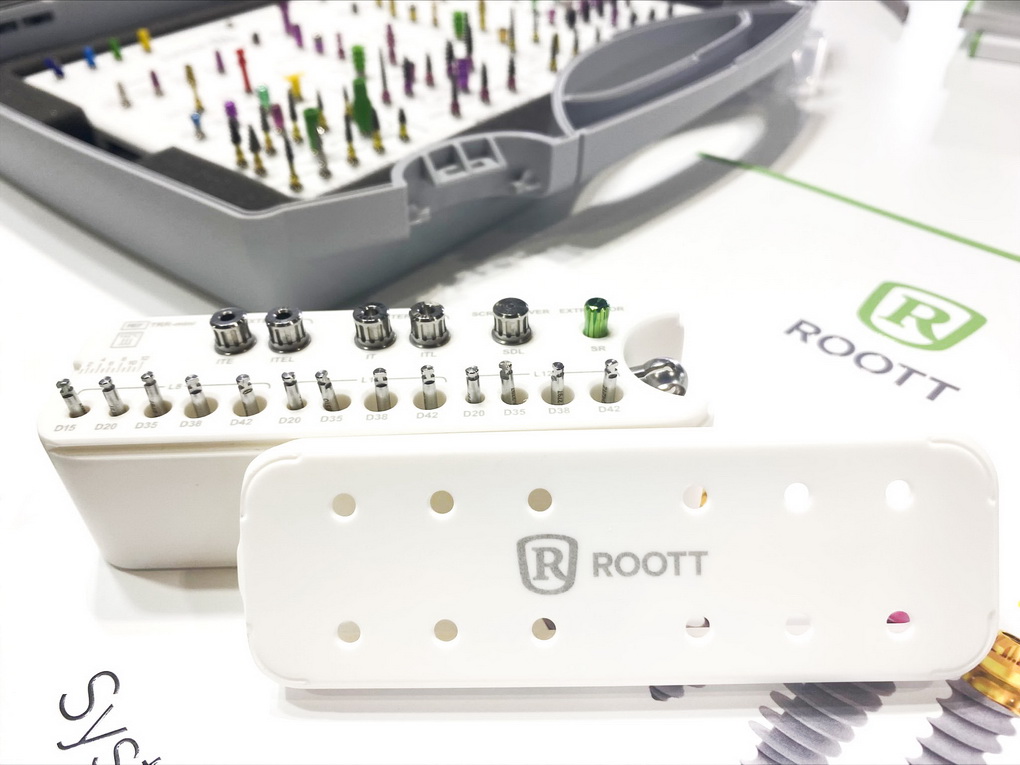 We are grateful for everyone who joined in and visited our stand, tried our products in live hands-on experience, and discussed the possibilities and feedback you had. It was a great pleasure to see such devoted specialists, curious about improving and upgrading their work. Additionally, we are thankful to our team and representative specialists, who spent their time to share professional insight and helped others to learn by showcasing real-life cases and offering solutions with ROOTT Dental Implant System. They have years of experience in critical thinking and demanding clinical cases and we are extremely thankful for their time.
This year presented many obstacles for those interested, and we know that some of you could not arrive and meet ROOTT. Despite that, we encourage you to strengthen our virtual connections and follow us on social media, engage in articles and events, and take upon valuable opportunities by partners from Open Dental Community. We hope to meet you in person next year and present even more progressive solutions by ROOTT.