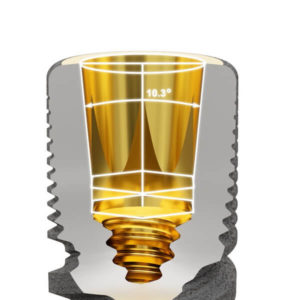 ROOTT R is a Two-piece dental implant with an active thread, to ensure perfect stability in jaw, and internal single connection, which ensures dentists with the convenient set of prosthetics solutions. ROOTT R has to offer 34 different sizes, 13 different healing abutments (gingival formers), 8 different transfers and 5 different types of abutments.
Single platform
Easy to use. With precise internal hex and conical connection ROOTT R implant offers a variety of implications which makes usage of implant easier and trustworthy. Wide range of prosthetic solutions and adaptation to fulfill every dentist's needs. Wide range of prosthetic solutions of ROOTT R offers cement-retained, digital, healing abutments, transfers, attachments and screw-retained techniques. Every implant of ROOTT R is integrated with internal hex and conical connection which means that superstructures are ready to use in every size, there is no need to buy a separate size of superstructure to fit it.
Healing Abutments
Healing abutments are not only with color for size identification, but also especially helpful and unique, ROOTT R can be classified into 4 different sections by function, such as:
Bone build-up – for building up bone over implant.
Narrow – for insufficient space to place anatomical abutments and to form the gums using straight abutments with attachment.
Regular – for ones who are searching for easy handling, due to added holes for dental probes. Also for less tension on gingiva around a crown.
Customizable – for aesthetically important areas, generally along with gum contour surgical connection. Can be used as temporary abutment.
Abutments
Besides a variety of healing abutments, ROOTT R has to offer abutments such as: Cement, Digital, Screw, Casting and Attachment.
Cement-retained provided in straight and angled models for cemented constructions and constructions with lateral screw fixation.
Screw-retained multi-unit abutments with screw-retained fixation, for multiple restoration.
Angulated multi-unit abutments with up to 45° angle to provide confidence and freedom in cases where ROOTT R type implants must be inserted not perpendicularly.
Digital – sandblasted base with gingival region and implant interface anodized in gold color for improved soft tissue aesthetics.
Casting – various casting for ROOTT R dental implants, with or without positioning, or even a made platform.
Attachment – to improve fixations and stabilize dentures in the upper and lower jaws. Abutments with attachments are used when the axes of positioned implants diverge by up to 40o.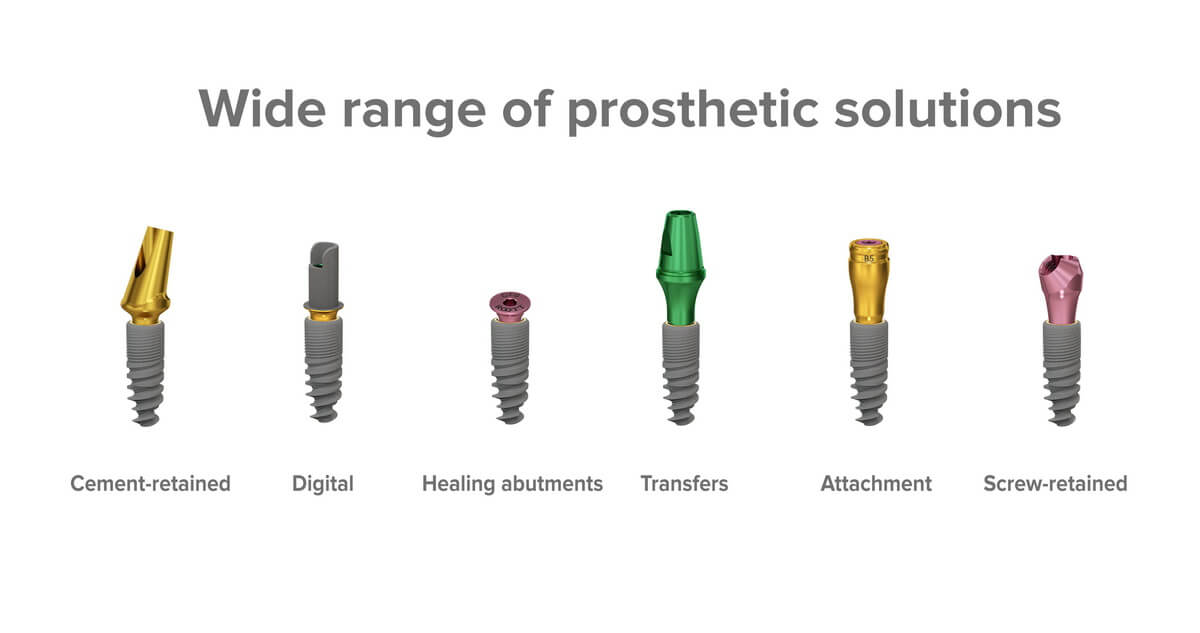 Transfers
Open tray – TO; TOS. Reduces the angulation of the implant's impact. The combination of a conical attachment and a hex allows the precise location of the implant to be transferred into the laboratory model.
Close tray – TOD; TR. For a simple and precise implant impression. Simple transition removal with no unwanted force on the implant if extra fixation is used.
Scan-post – SPCO; SPCOIO. Are intended for both completely and partially interactive solutions. It's matte surface makes for improved laser scanning reflection.
Implant analogs. Implant analog displays the location and orientation of the implant in stone models. AN – intended for dental impression taking and digital analog AND for printed models.
Instruments
Almost all of the components for easy and effective bone preparation for implant placement are included in the ROOTT systems dental implant instrument set. All of the drills are made of a corrosion-resistant material designed for the production of high-precision surgical instruments. Each drill has a REF number that corresponds to its scale. During the injection process, implant drivers are used to monitor and manage the implant's orientation. Cassettes have all of the equipment needed to mount all kinds of ROOTT R implants. Abutment extractors are used to easily remove the abutment, superstructure and carrier that are firmly attached to the implant.
ROOTT R with a significant variety of possibilities of implant usage and implementation is ready to change your perspective in implantology and open new roads for the dentistry future.
Interested in how ROOTT R works?
Join Open Dental Community Congress for special Two-piece lectures on June 28 and visit us at AEEDC, Hall 6, 6F01 on June 29, 2021 for hands on in amazing Dubai.
The link below for more information:
https://trate.com/aeedc-dubai-2021/